It's hard to express how much my legs hurt on Monday morning.  A body this old and ill-prepared struggles with 6 hours of baseball on a Sunday. But there was a smile in my heart, writes Rob Jones, with aching fingers.
And maybe that sums up the feelings which this game can bring to you. It was my first game of 2015, my first time this year on a diamond. The first real pitch I have faced. A few sessions in sports halls do little to prepare you for the reality. And I have made an extra effort this year — in order to compensate for the passing years — to try to stay fit, to try to stay strong. With little impact!
This game left me with a bruised thigh, a bloodied finger, a grazed knee, a headache, and a dull stiffness in just about every bone and muscle I have.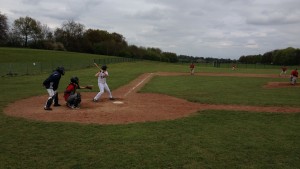 Despite our resounding defeat by the Essex Redbacks, there were some good things to take from my day at shortstop. There were two or three grounders which went right through me when I should've stopped them, and that is extremely annoying. But I made some plays which I probably shouldn't have — managing to somehow come up with the ball when it had been hit out both to my right and my left.
One line drive went inches from my flailing glove, another pop-up which I ought to have taken bounced out. Fortunately my last action of the day was safely catching a line drive to end an inning. It's always a bonus when the day ends on a high note!
Overall, I was happier with how I picked up the ball than with how I threw it. Finding a range, and finding the right balance between "concentrating" and "over-thinking" is one of the skills which comes from repeated practice. Like most of us at this level, I don't have that luxury.
The sport I often compare baseball to in my mind is golf. Admittedly, that sounds a little bizarre. But it's because baseball is a game of technique, of muscle memory, of attempting precision in an unpredictable context. And because a round of golf can have maybe one or two shots that feel "yes, I really got that right". And baseball is the same. You can make routine plays, you can miss really tough plays. But when you put it all together, that takes it to another level and the satisfaction is immense. And you may get only 1 or 2 moments like that in any game.
The was a Raptors team which showed a great spirit, relaxed but working hard too. There is energy there from young guys like Joe, Adam and Charlie, looking to make a big impression. And there were veterans returning too, with perspective and even a little wisdom. It was great for us veterans to have Paul Curtis back in uniform. As one of them remarked — to borrow another quote — we're getting the band back together again.
I can't complain about how my batting started out for the year. A double, then a single — both driven to the almost identical spot in right field! Then a walk. Followed by an easily stolen base (good point), which then turned in to me getting thrown out at third (bad point) when I tried to stretch it into an extra because the pitch had gone past the catcher. As a film might've once once said, "your mind's writing cheques that your body can't cash".
By the end my old body was feeling the strain. The last comebacker I hit to the pitcher, and the last fading throw I made from shortstop to first base were the product of fatigue as much as anything (no disrespect either to the pitcher or the base runner!)
If only I could move my legs, I'd gladly do it all over again right now.