When my father was a young man, he could sometimes listen to crackly radio commentary of Major League baseball games which would leak from the stations broadcasting on US air bases in Cambridgeshire, writes Rob Jones.
When I was a student, I could watch one televised game each week in the middle of the night on Channel Five.
Now, professional US baseball is far easier to come by. Five's famous coverage may have gone, but you can find ESPN on your satellite TV easily enough. And I am one of many people who subscribe online to the truly excellent service of MLB.TV.
While it's not easy to get to watch games in the States, it's easier and cheaper than it was in my father's day! Many more Herts players are getting the chance to watch the real deal.
It's all massively entertaining. But what can we as lowly British amateurs actually learn from watching these games? Even while sitting in the bleachers or in our armchairs, how can we improve?
The head coach of the GB national baseball team, Liam Carroll, thinks there is a lot that every baseball player can pick up:
"Find as many things you can copy to make you better, your team better!"
And that goes for people filling all sorts of different roles in British baseball: "Look how the dugout is set up at the field; learn how the base coaches position themselves; see what players high five each other for besides wins, home runs and web gems."
Several Herts players took the chance during the past season to visit professional games and stadiums in the United States, and watch the game played at high levels.
Youth pitcher James Dullea took in not only a Giants-Nationals game — which saw Madison Bumgarner pitch a 2-hit complete game in a 1-0 loss — but also a Charleston Riverdogs Minor League game.
His father Bruce, a former Falcons manager, said it had been a great trip but also educational for young James.
"He noticed that even though some of the minor league guys threw harder than Bumgarner," said Bruce, "no one could pitch like him."
Josh Jones of the Under 13s took his Herts cap proudly to an LA Dodgers game; club veteran Paul Auchterlounie and his family took in the Trop in Tampa Bay.
Here's one of Liam Carroll's tips to follow when you are at a game:
"Watch the player who plays your position. Follow his every move. Then do the same for the other team's guy.
What's the same? What's different? Who did you prefer to watch? Was there anything you loved? Anything you hated?  What do you need to change to be more like them?"
And there are extra elements you appreciate when you are there, and things are not hidden from you by commercial breaks: "Watch them play catch at every opportunity – between innings, after outs, before the game – and appreciate how well they take care of the baseball."
But for those confined to these shores, watching on TV and online works, too.
MLB will give you a highlight reel every day on the website, and they will often be breathtaking. Home runs that seem to fly on forever. Fiery pitching which makes you wince. Outfielders getting airborne to make diving grabs.
But on the Herts Twitter feed during the playoffs, we tried to pick out some different things. Instead of plays that you watch and think "How does he do that??", we wanted plays that would make you think "Hey, I could do that!!"
For example, there were some smart aggressive base-running plays in Toronto's two series, against Texas and against Cleveland. Any baseball player can choose to run the base paths intelligently.
We loved the Cubs' Javier Baez starting a double-play against the Dodgers by letting a catchable ball drop and letting LA run themselves into trouble. "Next level instincts" said the commentator — but it simply proved that the game isn't just about stronger or faster, but about playing smarter.
One of our favourite of these plays was actually from 2015, so New York Mets fans might want to look away now.  Eric Hosmer tying it up for the Kansas City Royals with that mad dash home.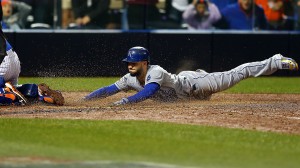 http://www.youtube.com/watch?v=6hYry9F2QRM
But was it really so "mad"?
The Royals were behind in the game, but were ahead in the Series. The pressure was all on the Mets to hang on to a one-run lead and get the win.
So while Hosmer might've been a goat had he been thrown out, he had everything to gain, and New York had everything to lose. So he had calculated risk and reward.
Kansas knew that David Wright was not gunning throws to first, but was throwing softly, because of his broken down body. That gave Hosmer more time. The fact that Wright had fielded a ball which was headed for Wilmer Flores meant there was nobody there to hold Hosmer on.
All of this stuff, situational stuff, stuff that you acquire by having your head in the game, helped Kansas win a World Series. And it is stuff that you can genuinely emulate on a British baseball field, even if you can't hit a 95mph heater.
Let's give a last word to GB Baseball Head Coach Liam Carroll:
"Watch the players' routines; watch their positioning. Watch the communication, both verbal and non-verbal. Remember things that can make your club better, and British baseball better!"
So now is your chance to get ready for the 2017 season with some serious sitting down and watching! Sign up for MLB.TV, or a satellite deal if you'd prefer. Revisit all the clips on the MLB website if you want to hang on to your cash.
And if you want to splash a little extra cash, book your trip to the States. If you've already got that booked, then look to see if you can add a bit of baseball to it.
MLB games are pretty easy to get into — each team plays 162 a year, after all! And don't forget the Minor Leagues, which offer you another chance to get close to the action.
And then be ready to put it all into action next month, when Herts pre-season training begins.